Most us watch movies to escape for a short while. With a spectacular home theater, a person could escape by merely entering the room. Whether they were created with a huge $150K budget or as a DIY project, your mouth might drop open into a wowed "O" by these 15 fantastic home theaters.
Star Wars Death Star Theme Home Theater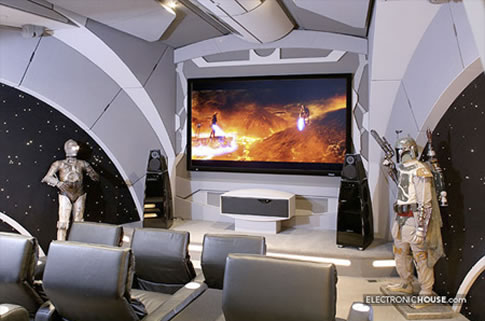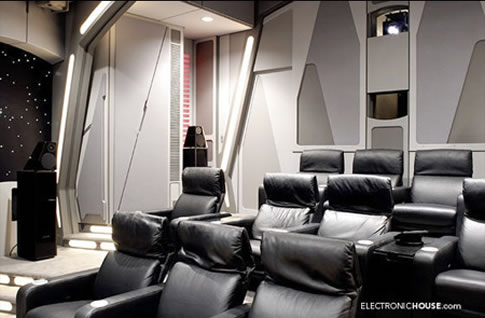 image sources: electronichouse
How does a Star Wars home theater become a reality? The owner called in Doug Chiang, the lead designer on "Star Wars: Episode I — The Phantom Menace" and "Star Wars: Episode II — Attack of the Clones" for design ideas. Then the chosen design was implemented by Dillon Works. The Death Star theater is 22 feet from the back wall to the screen and features three levels of seats, a stage for the screen, a fiber-optic starfield and plenty of Star Wars memorabilia. After entering through the automated sliding doors, this high-tech home theater has ten CinemaTech Valentino motorized seats, a Crestron remote, gaming interface, many Meridian speakers.
Batcave Theme Home Theater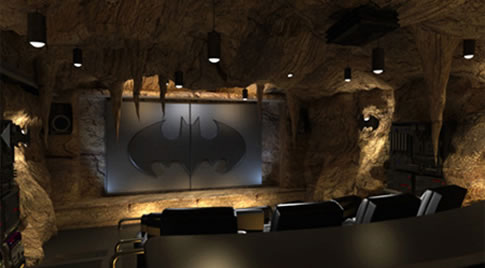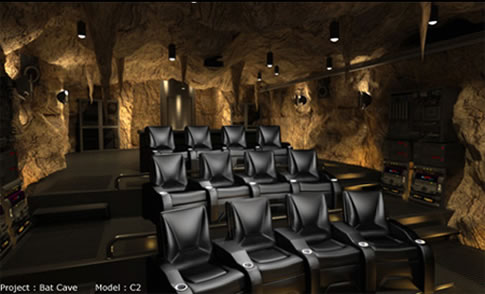 image sources: elitehts
Electronic Essentials designed this 15 x 18 Batcave home theater. It has custom acoustical wall panels and leather theater seats. The 9.2 surround-sound system and 110-inch CinemaScope screen make watching movies or gaming a truly delightful experience. Additionally, an Elan distribution system routes high-def video from a suite of audio/video components stashed in a closet close to the theater's Runco CineWide projector and a parlor's 55-inch LG LCD TV. Both rooms have access to an Escient media server, Samsung Blu-ray player, Vudu high-def movie player, two high-def Motorola DVRs and two Xbox 360s.
Star Trek Theme Home Theater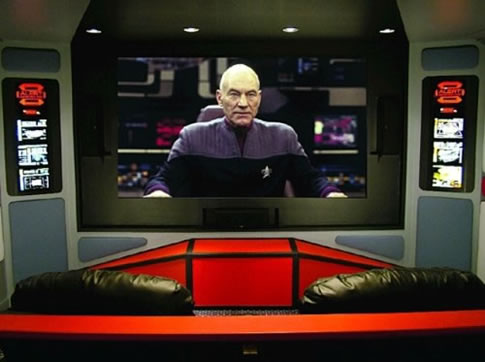 image sources: reighn
Gary Reighn created this DIY "Star Trek" heaven for about $15,000 in 2007. The Bridge home theater features a 102-inch high-def screen which can be controlled from the captain chairs. This "Star Trek" home theater is located in a 19 x 14 foot basement space.
Check out the rest over at devicemag.com

Did you like this post? Leave your comments below!
Found this Post interesting? Receive new posts via
RSS
(What is RSS?)
or
Subscribe to CR by Email