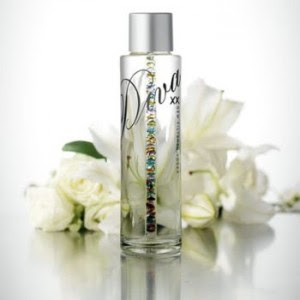 $1,060,000 - Diva Vodka
This bottle of vodka hails from Scotland and its price is the result of how much "bling" you want your bottle to have. The bottle can be encrusted with precious gems: diamonds, rubies, sapphires, etc. Blackwood Distillers makes this triple distilled vodka that is ice-filtered through Nordic birch charcoal and then for some reason is passed through a sand of crushed diamonds and other gems. Absolutely ridiculous, so let's move on to the next item, which is almost just as ridiculous, but then after that it's smooth sailing.





$255,000 - Spluch Tequila
The bottle is made of solid platinum and white gold which was unveiled in Mexico City on October 26, 2006. The bottle was purchased by a private collector on July 20, 2006. As a result of the sale, the Tequila Ley .925 company broke the Guinness World Records for the most expensive bottle of liquor sold.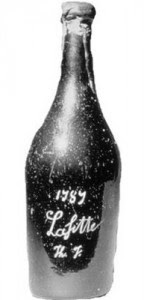 $160,000 - Chateau Lafite 1787
This bottle originally purchased from France by Thomas Jefferson, who was an avid wine collector.
This bottle is a Bordeaux and was sold at an auction in 1985 to Christopher Forbes. Much of the value comes from the fact that Thomas Jefferson once owned this bottle — his initials are etched into it. You can read more about this wine and others (some on this list) here at Forbes.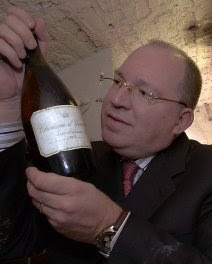 $90,000 - Chateau d'Yquem 1787
This bottle is a white and was sold recently (2006) to an "American Client". This wine is from the same year as the most expensive red ever sold (the Chateau Lafite above).
"One must remember that there is considerable nostalgia associated with such a bottle. In 1787 when peasants in Bordeaux were picking these grapes George Washington became the first President of the United States, Marie Antoinette was about to have her head chopped off in the French Revolution, and James Watt was developing the steam engine." (Antique Wine News)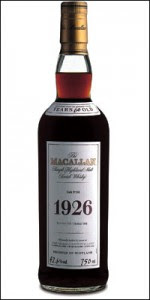 $75,000 - The Macallan Fine and Rare Collection, 1926, 62 Years OldOriginally listed at $38,000, a bottle was sold to a South Korean businessman in 2005 for $75,000.
The oldest and most sought-after of Macallan's revolutionary Fine & Rare Collection is now sold out. It is still possible to taste this totally unique Scotch whisky at the Old Homestead Steakhouse in the Borgata Hotel Casino & Spa in Atlantic City, N.J. However, it sells for a nosebleed-inducing $3,300 per dram (1/8th of an ounce/shot). I could create a separate list of better things to do with $3,300.
And I thought I was crazy when I bought two lowballs of Johnnie Walker Blue for $30 each…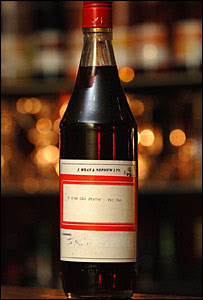 $51,000 - Wray and Nephew Jamaican Rum (1940)
The bottle shown to the left, bottled in the 1940s by the Jamaican distillers Wray and Nephew, and containing blends that date back as far as around 1915 has the honor of being what is believed to be the world's most expensive bottle of rum. The bottle which is being displayed at Europe's first rum festival, RumFest, is valued at £26,000. The bottle, which is one of four unopened bottles of the stuff in the world, represents the lost tradition of the Wray and Nephew Rum. The popularity of the Mai Tai cocktail drained their rum supplies in the 1930s. In order to keep up with demand, the distillery changed their production methods. The bottle therefore represents the chance to taste the Mai Tai as it was originally conceived. That is, if anyone ever opens the bottle.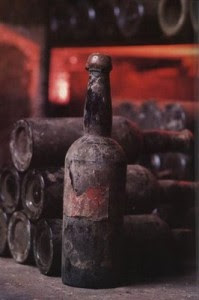 $43,500 - 1775 Sherry from the Massandra collection
This bottle sold at Sotheby's London (an auction house) in 2001. The Massandra collection is one of the finest in the world and has been around since the mid 19th century. There is nothing special about this particular wine other than its age. It is also pre American revolution.

Did you like this post? Leave your comments below!


Found this Post interesting? Receive new posts via

RSS

(What is RSS?)

or

Subscribe to CR by Email