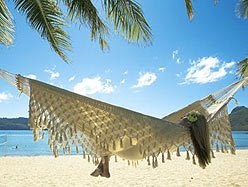 [via cnews]

One Greek woman promised to do all of Australia's laundry and pick up after the kangaroos.

An Australian apparently had a tattoo advertising her love of the Great Barrier Reef etched onto her arm. And a few people just took off their clothes.

Desperate to snag what's being billed as the "Best Job in the World," thousands of people from around the globe have submitted video applications to the tourism department of Australia's Queensland state for their latest advertised vacancy - a US$100,000 contract to relax on Hamilton Island in the Great Barrier Reef for six months while writing a blog to promote the island.

"Oh boy," an overwhelmed Anthony Hayes, Chief Executive Officer of Tourism Queensland, said with a laugh Thursday.

"What have we done?"

Response to the job has been mind-boggling, Hayes said, with more than a million unique visitors logging onto the website that advertises the gig since it was posted Monday. The department had to upgrade from its one original server to 10 to handle the volume of visitors to the site, which crashed earlier in the week.

On Thursday, a team of 10 people - whom, Hayes noted, were starting to look "pretty nervous" - were sifting through the 2,000 video applications the department had already received, with tens of thousands more expected before the Feb. 22 deadline.

In exchange for the plush salary, free accommodation in an oceanfront villa and airfare from the winner's home country, the employee will be required to perform such arduous tasks as strolling the island's white sand beaches, snorkelling its crystalline waters and exploring other islands along the reef.

The job is part of a $1.1-million campaign to publicize the charms of northeastern Queensland state and the employee will be required to post videos and photos on a weekly blog to help promote the area.

"The tourism industry is having a tough time at the moment," Hayes said.

"So what we're really trying to do is drum up as much interest and as much passion for the place as we can."

The job's website shows many of the 60-second video applications received so far from all over the world, including Brazil, Romania, Switzerland, the United States and Turkey.

One Queensland woman's video shows her walking into a tattoo parlour and walking out with an apparent tattoo on her arm that reads, "I (heart) islands of the Great Barrier Reef."

A woman in Greece promises - via a scroll of words across the screen - to wash all of Australia's laundry and even clean up up after the kangaroos.

Another video shows a woman standing on a street belting out an original song. Some applicants simply stare at the camera and beg.

And then there have been videos that were simply too - shall we say, quirky? - to publicize, Hayes said.

"I guess we expected there'd be a certain percentage of nutters and nudies," Hayes said.

In May, officials will select 10 finalists to travel to Hamilton Island for an interview process, which will include sailing, snorkelling and psychological testing. An eleventh finalist will be chosen by the public, from a pool of 50 of the best applicants, whose videos will be posted online, Hayes said. The job begins July 1.

Best Job in the World: http://www.islandreefjob.com/

Found this Post interesting? Receive new posts via RSS (What is RSS?) or subscribe via email at the top of this page...