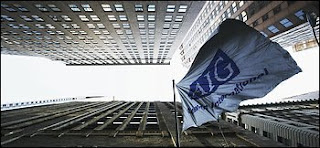 The troubled insurance giant American International Group already has consumed three-quarters of a federal $123 billion rescue loan, a little more than a month after the government stepped in to save the company from bankruptcy.

AIG has borrowed $90.3 billion from the Federal Reserve's credit line as of yesterday, the bulk of it to pay off bad bets the company made in guaranteeing other firms' risky mortgage investments. That's up from roughly $83 billion AIG had borrowed a week ago, and the $68 billion level it reached a week before that. The news comes as the company's new chief executive warned Wednesday that the government's financial lifeline may not be enough to keep AIG afloat.

The high volume of taxpayer funds that the trillion-dollar corporation tapped within five weeks also has others fretting that the largest government bailout in history may still not be adequate. AIG began reporting unusual multimillion-dollar losses this spring as a result of its heavy exposure to risky mortgages, and the U.S. Treasury decided that its failure would probably bring down several other major investment firms and banks whose fortunes were tied to AIG.

But Wall Street analysts said this is a vulnerable juncture for the insurance giant. It's now in a deep trough -- from which it may either emerge leaner and meaner or never return.

"It can't be good that they have to pay out so much more money, " said insurance analyst David Schiff of Schiff's Insurance Observer. "They're obviously in a lousy spot."

In exchange for control of the company, the Federal Reserve Bank of New York gave AIG an $85 billion loan Sept. 16 to keep it from bankruptcy. Earlier this month, the Fed reluctantly gave AIG $38 billion more in credit that was intended to keep the firm from drawing down the first Fed loan too quickly.


Five weeks in, AIG is paying out money but has yet to make much. Its plans to sell major assets to pay off the government's loan have been frustrated by the lowered prices that interested parties are now willing to pay for its business divisions and the difficulty some have in getting financing for deals.

New York Fed and AIG officials declined to comment on the situation. But sources close to the arrangement provided an illuminating breakdown: AIG has tapped $72 billion from the original $85 billion bailout. It has drawn down $18 billion of the additional $38 billion the Fed offered in credit liquidity for losses the company was suffering in securities lending.

In an interview on "The NewsHour with Jim Lehrer" on Wednesday night, chief executive Edward M. Liddy was asked by senior correspondent Ray Suarez whether the government's loan would suffice.

"I think so and I sure hope so," Liddy said. But Liddy added that there's no guarantee unless there's an improvement in the capital markets and companies regain their ability to raise money.

AIG yesterday named Paula Rosput Reynolds, the former chief executive of property and casualty insurer Safeco, as its vice chairman and chief restructuring officer. Reynolds, who led Safeco's sale to Liberty Mutual six months ago, will oversee the sale of AIG's assets, the company said in a statement. [via wp]


Found this Post interesting? Receive new posts via RSS (What is RSS?) or subscribe via email at the top of this page...